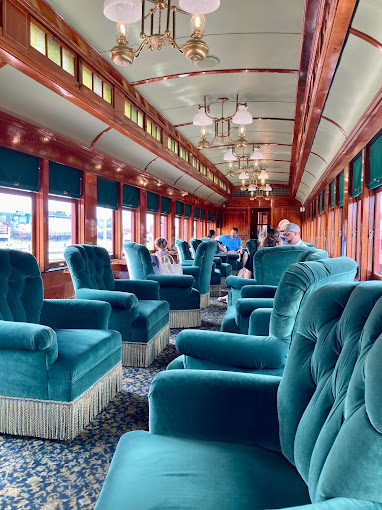 Strasburg Railroad fun while at Annville Inn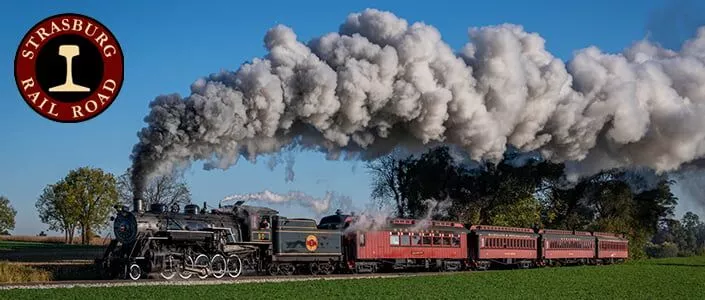 Strasburg Railroad Experience
The Strasburg Railroad adventure awaits Annville Inn Guests. Many of our Guests enjoy taking a short drive across Pennsylvania Dutch countryside, past verdant Amish farms, to The Railroad Museum of Pennsylvania.
Great fun motoring out past lush farm fields! See beautiful farm houses and barns. Carefully share the road with Amish horse drawn buggies. In
Lancaster,
only about 30 minutes away, there is much explore. Visit an
Amish farm house
and learn about Amish culture. Shop the outlets. Relish delicious Pennsylvania Dutch cooking. Take in an
Amish Mud Sale
in the spring. Definitely hop aboard the Strasburg Railroad.
Strasburg Railroad is the United States' oldest continually operating railroad. While visiting the Strasburg Railroad, you can not only ride a train powered by a steam locomotive, but also see an enormous display of huge railroad locomotives. Join a behind the scenes tour of the locomotive maintenance workshop. See images of some of the magnificent "iron horses" on display in the Annville Inn Travel Guide. There are also railroad restaurants and railroad related activities at the Strasburg Railroad and at the Railroad Museum of Pennsylvania in Strasburg. "We are so appreciative of the Annville Inn Travel Guide," one guest wrote in their 5-star review of Annville Inn. "I clicked on the link for the Strasburg Railroad, and got all the information we needed to create a fascinating day trip. We went right after we devoured one of Rosalie's over the top breakfasts," they added.
Sight see on the Strasburg Railroad
The Strasburg Railroad goes directly through the heart of Pennsylvania Amish Country. Be treated to a view of more than 2,500 acres of breathtaking farmland. Comfortably seated aboard a pristine, authentically restored passenger car, you will embark on a 45-minute, fully-narrated ride. Your trail will be pulled by a real, operating steam locomotive. That is just the beginning of this one-of-a-kind adventure at America's oldest operating railroad.
Ride first-class, open-air, coach, or choose to dine aboard the train in the authentic wooden dining car. You can also dine at the newly opened Café 1832, for seasonal fare, scratch-made from the freshest ingredients. To dine trackside, order take-out from Café 1832 or pack a lunch to enjoy at one of the railroad's convenient picnic groves  along the train's route. The railroad has a variety of ticket options, departure times, etc.
Special Themed Trains
Each season has specially themed train rides. Most trains offer a selection of first class, coach and dining experiences. There are also murder mystery trains! In summer, our Guests often head out after breakfast, and then after a day exploring Amish country and the Strasburg Railroad, they head back to the Inn. Once here, they relax in our large swimming pool, or our comfortable theatre with its big high definition screen and Dolby 7.1 surround sound. Often, they choose to visit our spa, for massage by our outstanding licensed massage therapist (by appointment).
Writing about their trip to the Strasburg Railroad, a couple from New York City concluded their review by saying, "There is so much to see and do around Annville Inn, it is amazing. We've been coming back to stay with Rosalie and Craig for over 14 years now, and they never cease to impress us with their hospitality, clean and imaginative and fun Inn, and of course–Rosalie is famous for her breakfasts and
most comfortable Guest rooms
!"