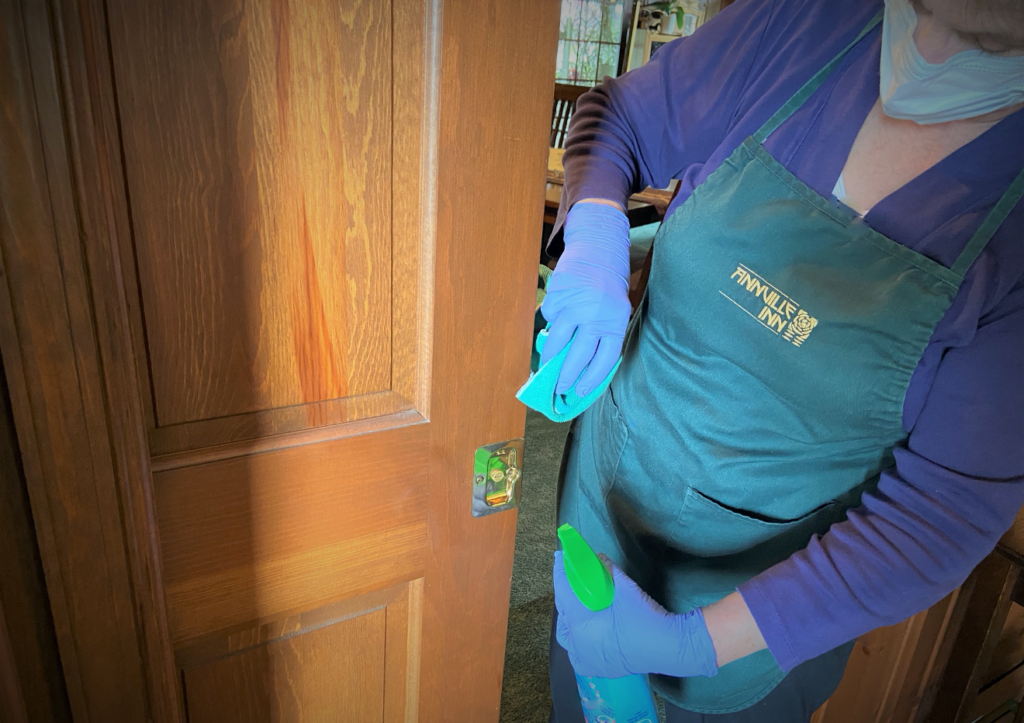 Welcome Back, Guests! 
Stay Safe, Stay Small!  Come to Annville Inn with Confidence
We are now booking reservations.  We are very careful how we do this, and are fully compliant with the Governor's office here in Pennsylvania, the CDC, and through Select Registry, the organization that rates and inspects us, we are certified as a Safe Inn.
We know, when we are traveling now, we would not dream of staying where dozens and dozens, if not hundreds of people are staying.  So, hotels and convention centers are out!  Inns, Bed & Breakfasts, SMALL Boutique Hotels, SMALL lodges, are "IN."  It is safer just from a perspective of the "odds" of running across Covid-19, plus smaller hosts can most easily and certainly much more carefully sanitize and protect guests.  READ MORE
Every guest that books at Annville Inn is sent a Covid-19 awareness document that lists what we are doing as an Inn to protect them, and what in turn is asked of them to help protect not only other guests, but ourselves as well.
The system is working beautifully!   Yes, we have had to make some minor changes in our operation, but they are all good modifications that assure everyone's protection.
We are following the guidelines outlined in the Pennsylvania Bed & Breakfast Inns Promise.
Here is a list of SOME of the things we are doing to ensure our guests have a spectacular, yet safe time, and can travel to Annville Inn with Confidence:
Annville Inn was founded as a place to escape the challenges of the world and to relax and unwind and recharge.  Perhaps more than ever, we are needed for this purpose.  To be able to continue to provide this place of safety and comfort, each and every person under our roof has a new set of responsibilities thrust upon them by the COVID-19 situation.  One day it will change, but for now, the only way to ensure each other's safety is to adamantly follow the Inn's guidelines. 
Everyone present in the Inn's public spaces wears a mask.
Your Innkeepers and all our inside staff will wear masks at all times and maintain a 6 ft distance.
Rosalie and Craig went into this business because we love hospitality and interacting with our guests.  That said, we now must change our business model to not be in close contact with guests, so no hand shaking or hugging—darn! ?.
Breakfast time:  We will not sit people together in close proximity for Breakfast.  Separate seating. We will maintain 6′ distance at a minimum unless you are travelling together and those that are sharing a room.
We will continue to sanitize all rooms thoroughly.  We always have, even before this pandemic, we always will.
We will provide you on our front desk…near the "guest bell",   if you like, a list of available restaurants with "to go" options,  and venues we know are supposed to be open.  Theatres, live theatre, sit down service inside restaurants, amusement parks, etc. are all closed until we move into the "green" code in a few weeks.
There are enjoyable options for things to do:  We will provide a list of beautiful country drives and other such pastimes to guests who would enjoy such trips. Just let us know.  We have some terrific suggestions. Guests now are enjoying our own Theatre, Swimming Pool, Hot Tub, Garden Strolls, Games, and much more. Fortunately, from the beginning 15 years ago, we designed Annville Inn to be a DESTINATION.
Coffee Service:   For guest safety, we will not offer self-service coffee in pots in the morning but will certainly serve to you all the coffee you can drink, just let us know when you want more!
The Keurig coffee makers in both coffee bars will be left in place but will have a sanitary wipe dispenser next to them.  IT IS CRITICAL all users of the Keurig system follow these directions.  If you use it, you agree to do this:
WIPE DOWN THE BUTTONS AND HANDLE AND ANY OTHER PART YOU INTEND TO TOUCH BEFOREYOU USE THE SYSTEM.  Give it a few moments to dry before using.
WIPE DOWN all the buttons and handle and any other part you touched AFTER using.
BOTTOM LINE:  Each self-serve cup of coffee requires TWO WIPE DOWNS!  These extra safety steps take seconds.
ALL OF US:  Staff and Guests…must wash hands after any action involving touching doorknobs, toilet handles, anything.  Wash hands very, very often…for everyone's health and safety. Due to these latest safety guidelines, our two main floor powder rooms are not available—of course, you have a wonderful bathroom in your own guest room.
During this COVID 19 time, we will be here for our guests, however, cannot offer room refresh during your stay.  Please let us know if you need any supplies such as additional towels. Meanwhile, we'll have towel receptacles set up for the linens you are finished with.
NEW THEATRE PROCEDURE:  Please enjoy the theatre—we have prepared a "sign up"/reservation system to ensure you are in the theatre alone, and that we have time to sanitize it before the next guest(s) enjoy it.
STAY SIX FEET APART.  DO NOT GET WITHIN BREATHING/COUGHING DISTANCE OF OTHER GUESTS OR STAFF…and wear your masks when in public areas of Inn.
WATER FEATURES ARE SAFE: A recent question to the CDC was "Can water from hot tubs or swimming pools or spas be dangerous."  ANSWER:  SAFE!  The COVID-19 is a respiratory disease, it is breathed in or transmitted by hands.  Water will not transmit it, pools and hot tubs and Jacuzzis are safe, they are not vectors, UNLESS you are closer than 6′ to someone you don't know to be safe and they can cough or breathe on you, but the water features themselves are quite safe.  We have a reservation system for the hot tub, so we have time to sanitize touch areas before the next use.  The Jacuzzi in your room is safe to use any time you please.  The swimming pool is safe to use any time you please, just maintain 6' distancing.