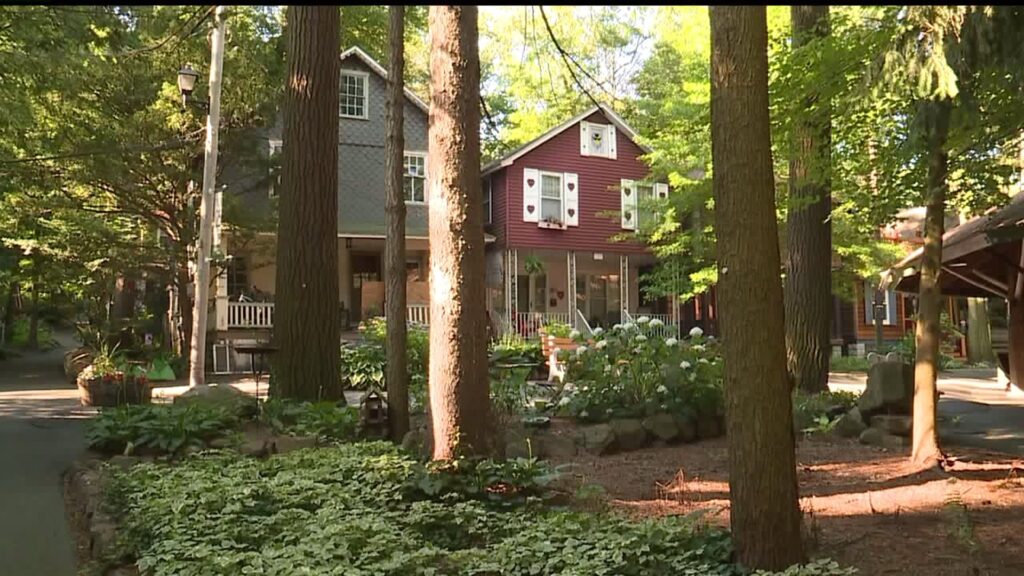 Mt. Gretna Near Hershey
Mt. Gretna, located in Lebanon County, is just a few miles from Hershey as well as Annville Inn. Our Guests spend time in Hershey, of course, but love going to Mt. Gretna, here in the beautiful Lebanon Valley. "Mt. Gretna is multi-sensory, there is much to see such as architecture, nature, and the visual arts. Also, there is much to hear: Music, live theatre, lectures and story telling, sounds of nature, and often, listening to the…quiet.
"More senses are excited in Mt. Gretna. There is much to taste, much to feel…inside…the vibe in Mt. Gretna is both appealing and alluring. Your sense of smell picks up delicious scents waifting from local restaurants. You also pick up the cool, pleasing and relaxing scent of the woods. Whatever the season, Mt. Gretna brings your senses alive," states Rosalie George, Innkeeper and Founder of Annville Inn.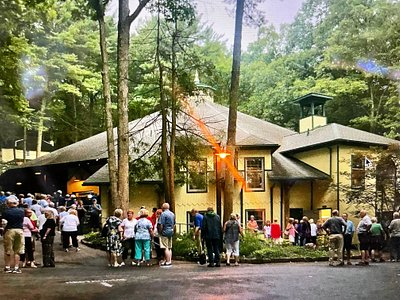 Mt. Gretna, Lebanon Co. Near Hershey ARTS SCENE
Mt. Gretna's vivid arts scene is a nationwide draw. Gretna Theatre brings in Broadway traveling productions, entertaining theatre fans at the Gretna Playhouse. People commonly come from the six surrounding states and the District of Columbia. The theatre regularly draws in folks from even greater distances.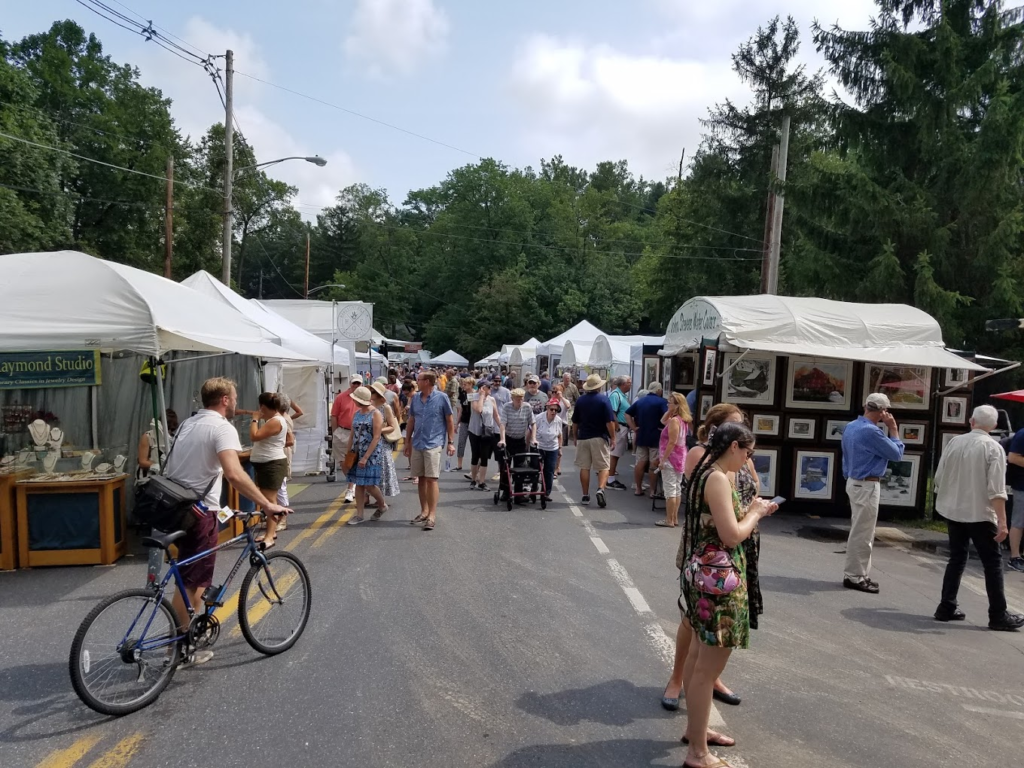 Festivals and Venues
A similar broad reach applies to the Gretna Tabernacle, Gretna Music, The Original Cicada Festival and several other Mt. Gretna arts initiatives including the Outdoor Arts Show held every year in late summer. Other highlights include educational opportunities presented by the Pennsylvania Chautauqua, dinner theatre, hiking, and of course, excellent dining as well as dessert at an acclaimed ice cream emporium, which is located beneath the canopy of the forest. Nearly every feature of Mt. Gretna is under the forest's graceful, verdant arches.
Please check our newsletter, Annville Inn News, for an extensive list (with links) of events, restaurants and outdoor activities including nearby parks and recreation areas. Wish to receive the newsletter? Please send a request to us by e-mail. You can also explore a variety of Mt. Gretna's connections to the arts, which we will publish at the end of this blog.
Porches of Mt. Gretna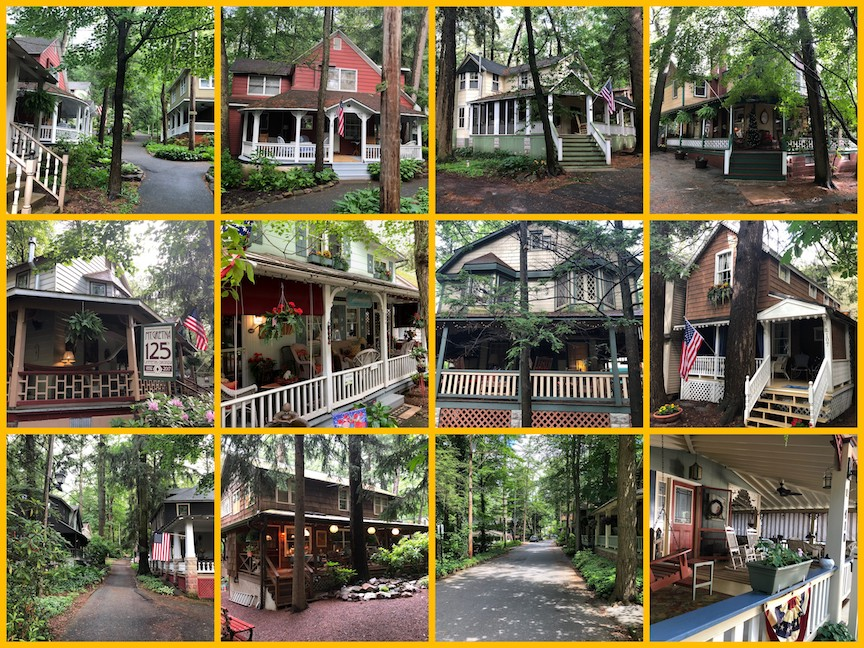 Annville Inn & Mt. Gretna + Glorious Porches in Mt. Gretna!
Our summer & fall Guests at Annville Inn check in and on their first night, and often enjoy some of the local nightlife and dinner out. Some stay in and enjoy their comfortable well appointed Guest Room. Also at the Inn they an take in our Three Acre Botanical Gardens, the swimming pool, and movie theatre. Many enjoy the Game Room, hot tub, Jacuzzis, our Spa and more. From strolling in the Gardens, to exploring the maze, to pitching horseshoes or playing croquet, there is a lot to do outdoors right here at the Inn. A Guest favorite: Lounging around the pool or in one of our hammocks for two!
Rosalie's candlelit gourmet breakfasts greet our Guests after a good night's sleep and their day of adventure begins…or their day of quiet relaxation. Either way, a night at the fabulous Gretna Theatre awaits them. Prior to arriving in Mt. Gretna (about 15 minutes away) many guests enjoy driving or walking about town and enjoying the visual appeal of the cottages, which compose most of fascinating Mt. Gretna.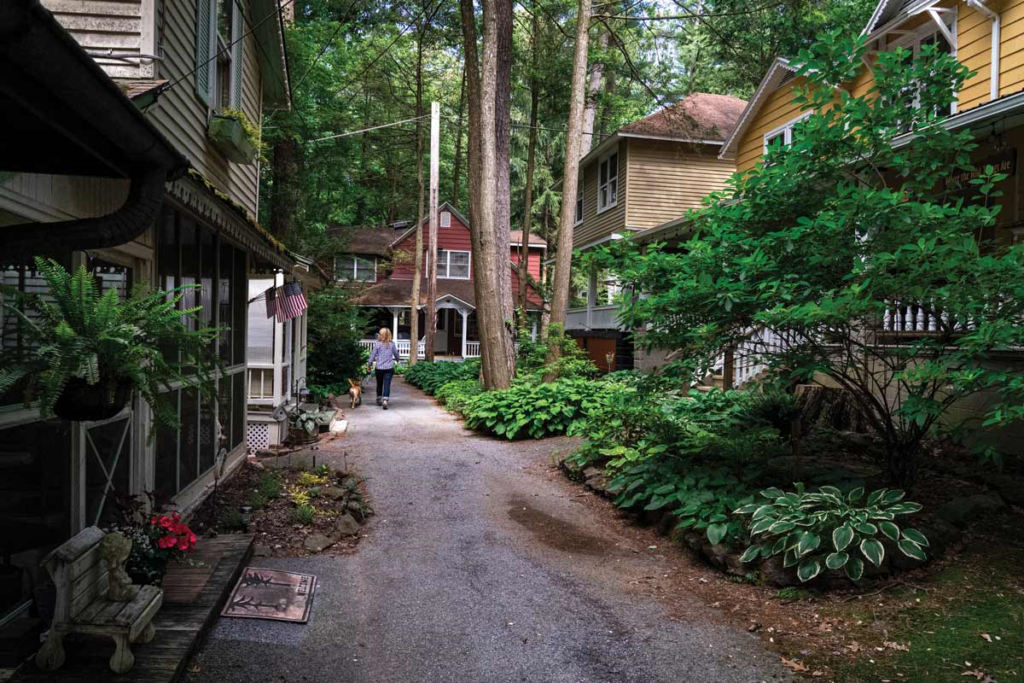 \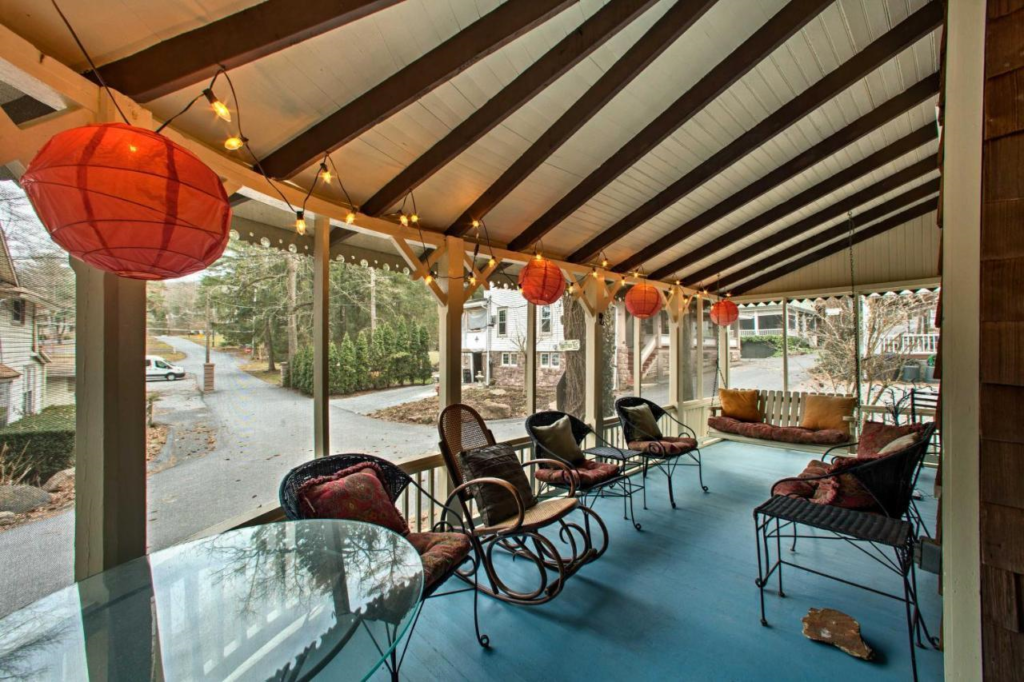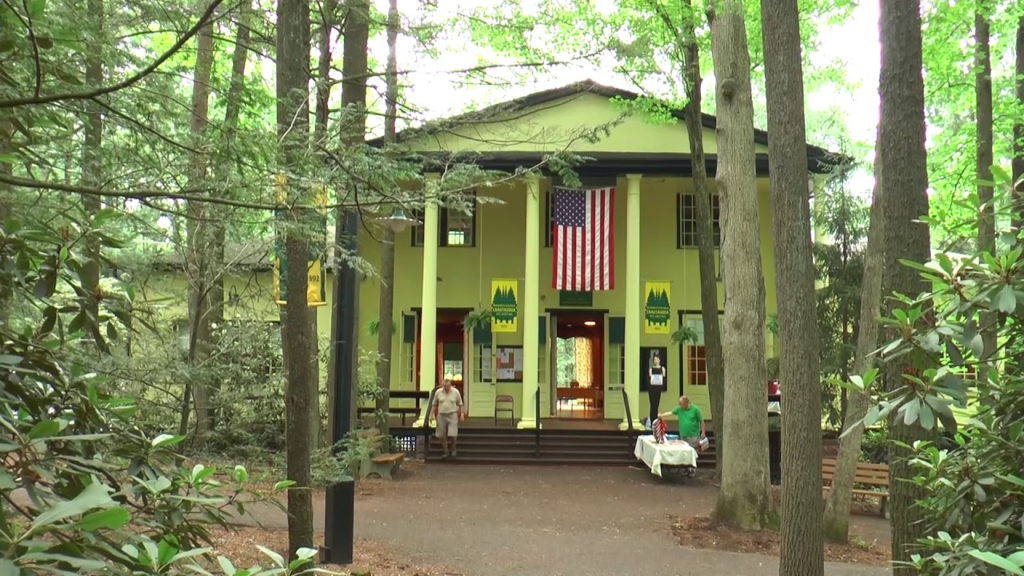 Gretna Theatre at Mt. Gretna, Lebanon County near Hershey
Like much of Mt. Gretna, the Gretna Playhouse (where Gretna Theatre is located) is situated beneath the canopy of the forest. A professional stage, lighting and acoustics is integral to the performance as is comfortable audience seating. The unusual part of the theatre is although the stage and audience are "under roof" for protection from the elements, the sides (walls) of the theatre's auditorium are open. The beautiful, verdant woods of Mt. Gretna are just outside the Gretna Playhouse perimeter. Magical! (Three entities utilize the facility known as "Gretna Playhouse": Gretna Theatre, Gretna Music and the Mt. Gretna Cicada Festival. Other Mt. Gretna entities also use it from time to time, such as Gretna Chautauqua.)
Peace, Relaxation, Enjoying a Slower Pace
The quiet peacefulness of this Lebanon Valley gem matches the quiet and restful atmosphere of our country Inn. The Arts & Crafts/Mission movement greatly influenced the overall effect of Mt. Gretna, as it does us here at Annville Inn. Our Guests come stay at Annville Inn for rest and relaxation and a vacation from their daily routines. They often tell us how Annville Inn and Mt. Gretna compliment one another. Yet we are both minutes to Hershey, Lancaster, Lebanon and Harrisburg and the offerings those locations provide.
Mt. Gretna has a wonderful vibe–a fusion of the latest arts (visual and performing), architecture of the cottages, which make up most of the town, and an overall "Arts & Crafts Movement" ascetic. Whispers of days gone by are unmistakable.
The Pennsylvania Chautauqua
The Chautauqua movement is alive and thriving in Mt. Gretna. This summer's program offerings would rival many universities' comprehensive programming. You will find interesting presentations from music to lectures to performing arts as well as walks and other adventures. Their plethora of things to do are highlighted in the Pennsylvania Chautauqua seasonal brochure.
Additional Links

To help you plan your visit to Mt. Gretna, here are some important links to the arts in Mt. Gretna.