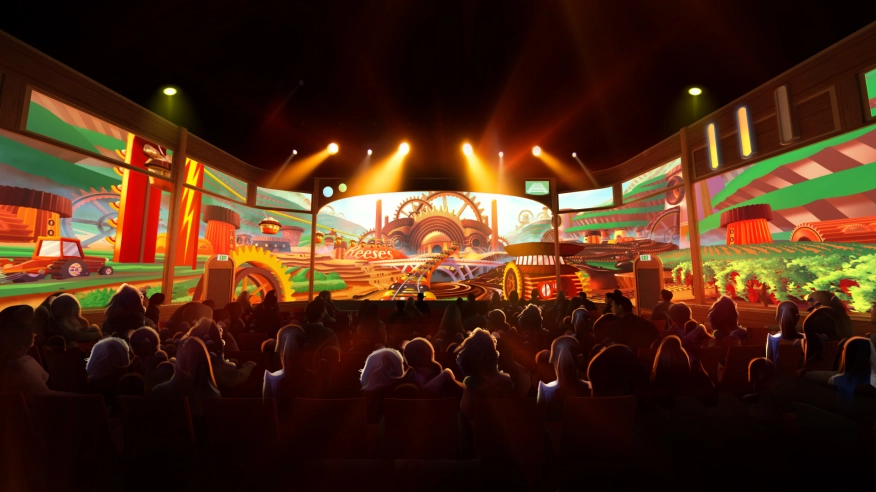 New Attraction At Chocolate World!
Hershey's Chocolate World has been open for 50 years!  To celebrate, Chocolate World is planning a new attraction that will replace  the 4D Chocolate Show that closed in 2022.  Guests of Annville Inn Bed and Breakfast have always enjoyed an excursion to Chocolate World. Many have told us they are excited about the new adventure opening this summer. The venue is about 17 minutes from the Inn. It is featured in our Travel Guide, located on the top menu bar of our Website.
New Attraction at Chocolate World and Annville Inn, What a Great Combination
Chocolate World calls the new attraction "a fantastical journey to epic candy worlds." A series of clues are expected to be released teasing what the  theme will be. The new attraction is slated to open this summer (2023).  We suggest checking into Annville Inn on Friday afternoon so that you can enjoy an evening out dining at one of our Valley's fabulous restaurants.
When you return from dinner, relax in your room or lounge poolside and walk through our extensive gardens. You could also experience our Dollby 7.1 surround sound and high definition screen in our movie theatre! Then after Saturday morning's spectacular breakfast. Then you have all afternoon in order to take in all that there is to see and do at HersheyPark including the new attraction at Chocolate World.
The first clue about the new attraction at Chocolate World shows a railway, with a round trip ticket being being highlighted while at the same time, suggesting guests should "grab their ticket for a candy quest through Hershey-inspired lands."
New Experience at Chocolate World, "An Experience Like No Other!"
The second clue features the inside of a train car with the words "punch your ticket" on the window. It also mentions that guests will be able to influence the fun and that it is an interactive experience like no other.
4D Chocolate Movie Replaced
Chocolate World's new attraction will replace the 4D Chocolate Movie, which closed Labor Day weekend, 2022. The 4D Chocolate Movie opened over a decade ago and entertained guests with over 100 story variations, so guests never saw the same show twice.
Chocolate World has stated they will be releasing clues regarding the attraction every other week. Guests should stay tuned to the site for more information about the attraction in the upcoming weeks.
Other Chocolate World 50th Anniversary Events
Other events occurring to celebrate Chocolate World's 50th anniversary include a Hershey's Chocolate World themed sculpture created by well known food sculpturers, as well as a birthday party and rededication of the complex on June 30.