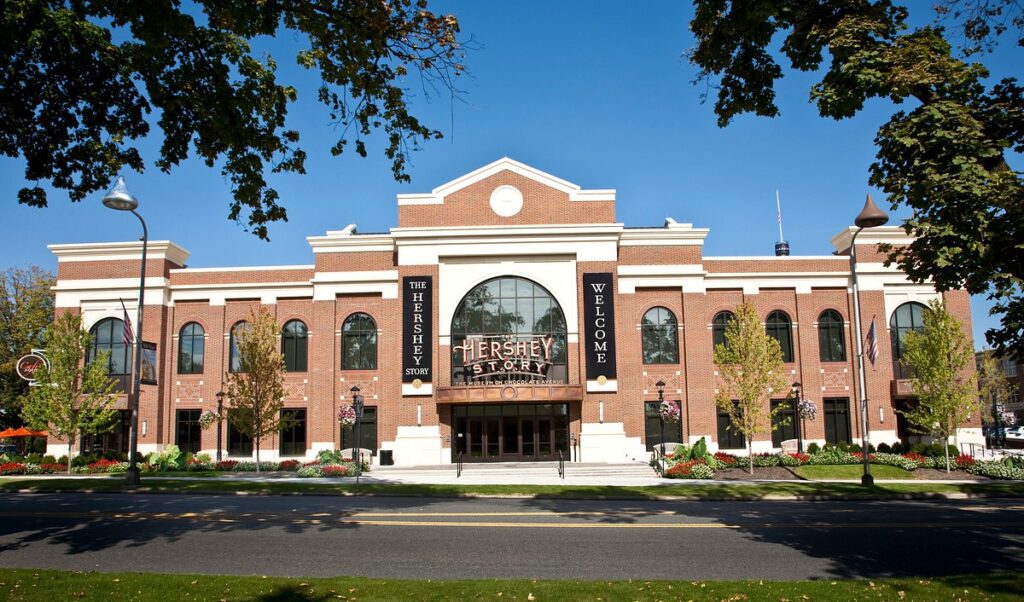 The Hershey Story

The Hershey Story, The Museum on Chocolate Avenue, opened on January 9, 2009. This "new" Museum replaces an earlier installation dating back to 1935, which was located within Hersheypark. Both Hersheypark and the Museum are located less than ten miles from Annville Inn.
Perfect Indoor Adventure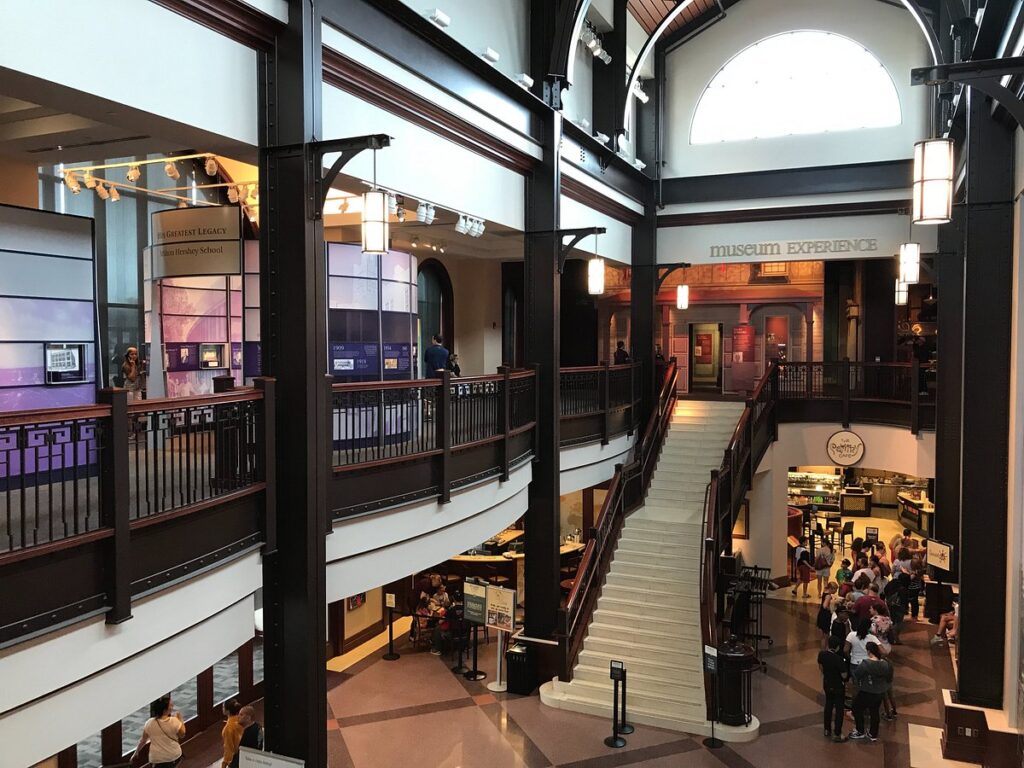 The Hershey Story  Museum offers visitors an educational, fun-filled, imaginative, and immersive environment to explore the many stories of Milton Hershey and his legacy.  This is the perfect indoor engagement while at Annville Inn—there is even covered parking!
1933, 1935, and 1938 are three important years in the legacy of The Hershey Story, the Museum on Chocolate Avenue. Milton Hershey launched his museum with his Native American Collection in '33, and in 1935 acquired a large Pennsylvania Dutch artifact collection.
The Hershey Story Goes Public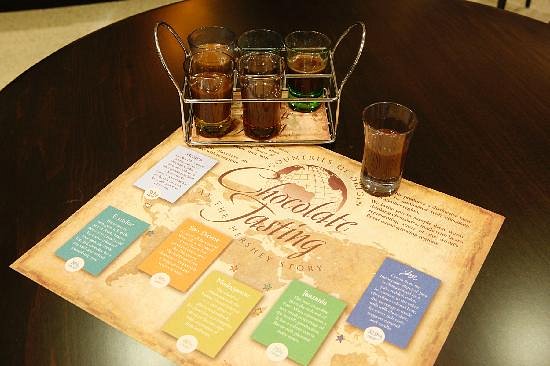 In 1938 the museum moved to the lower level of the famous Convention Hall/Ice Palace. Years later, Wilt Chamberlain would rise to fame at the Convention Hall. On March 2, 1962 he scored a 100 point single game. His was a scoring record in the game played there between his Philadelphia Warriors and the New York Knicks. (Warriors won 169-147.)
Mr. Hershey's Rise From Failure to Astonishing Success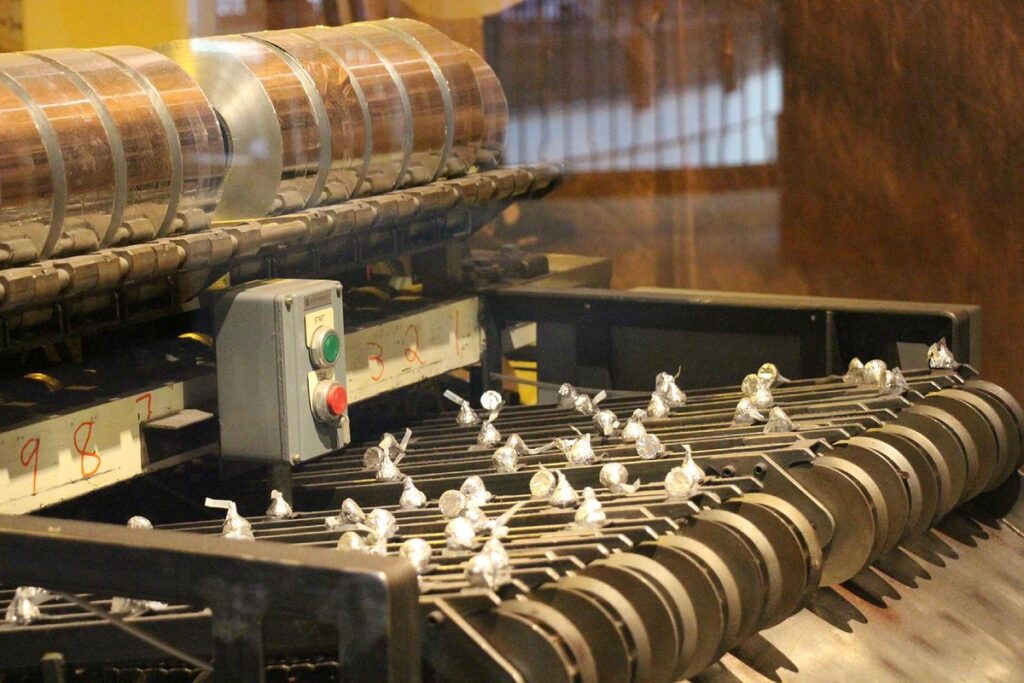 Before the world fell in love with his chocolate, Milton S. Hershey was a struggling entrepreneur. He surely would be proud of what has today become The Hershey Story, The Museum on Chocolate Avenue.
His is not unlike other ultimately successful business stories where the protagonist struggled and often failed many times before hitting on the "right stuff."  The Hershey Story Museum tells of his drive and determination. He was focused on creating a place where workers were happy and surrounded by beauty.  Rosalie George, Your Innkeeper is similarly determined to create a place of relaxation and beauty. Her focus is to create a space where guests enjoy a vast assortment of amenities and scrumptious breakfasts. That's Annville Inn!
Engaging museum exhibits explore Mr. Hershey's early failures. They show how he successfully revolutionized the process of making milk chocolate. They underscore how he became a philanthropist. As such, the orphan boys of the Hershey Industrial School became heirs to his fortune.
Changing Exhibitions
Just as Milton Hershey reinvented himself, so has the Hershey Story, the Museum on Chocolate Avenue. The Museum features changing exhibitions. If you are a frequent visitor to Hershey, there is always something new to see there. (Not to mention the opportunity to go to the Chocolate Lab and experience "chocolate tastings" from around the world.) At Annville Inn, we suggest to our Guests not to say, "I've seen it," (and therefore not go back). Each return trip, we tell them, has new interesting stories to explore.
New experiences are the bedrock of the Hershey Story, the Museum on Chocolate Avenue.  Current new experiences will help guests discover more than 30 stories about Milton Hershey. Each story is captured in a fresh and clever way. These fascinating stories help define his intriguing personality: frugal, yet generous; a risk-taker, but practical.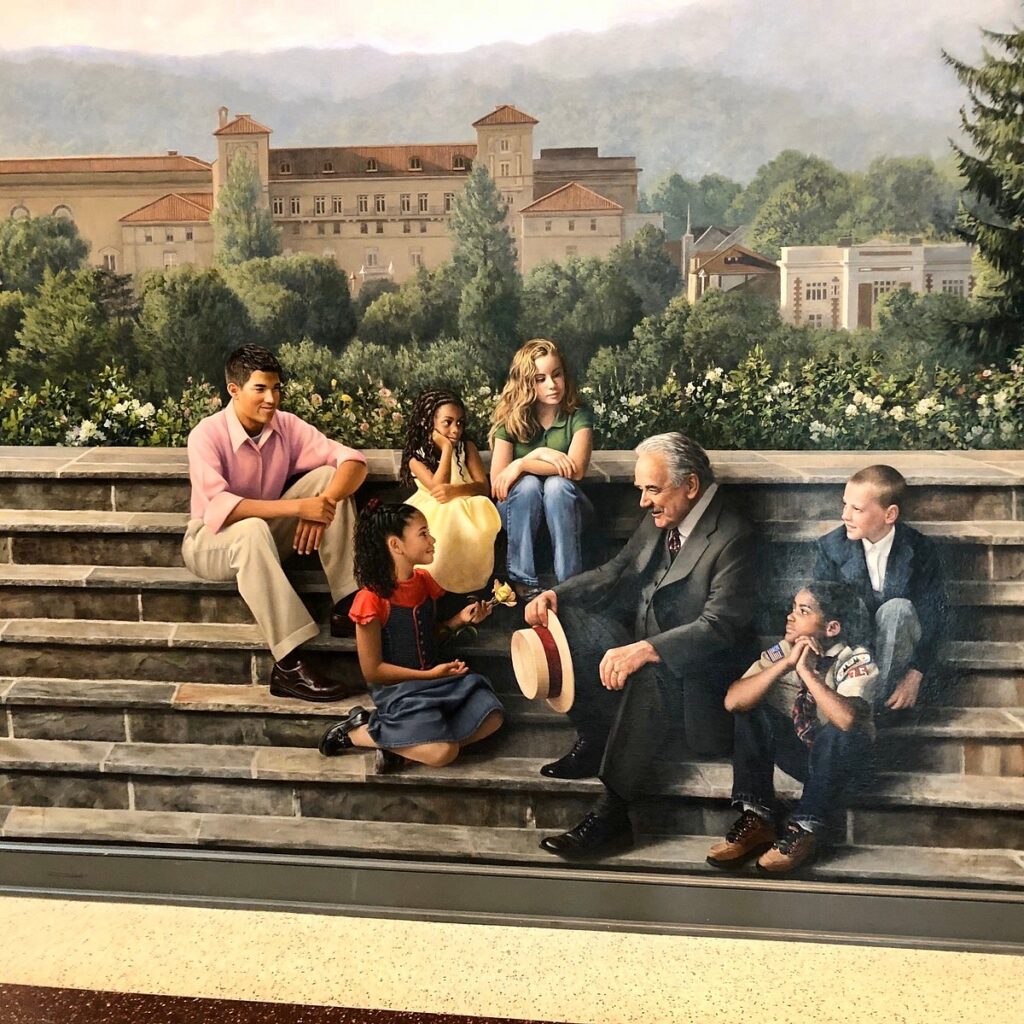 Unusual Permanent Exhibition
We recommend to our Guests that they take time to see the Apostolic Clock that Mr. Hershey acquired.  It is fascinating and was once described as a "Ninth Wonder of the World."  The Museum has posted a brief video of the clock's operation and many movements in a video posted toward the BOTTOM of the page opened by CLICKING HERE.